1 (888) 976-5881
COVID-19 - We're Open
We Are An Essential Business. Click Here To Learn How We Are Keeping Our Customers & Employees Safe.





WITH 378 REVIEWS
Click
to view local phone numbers
(919) 500-5059
(919) 500-5059
---
Raleigh Area





Brentwood

Falls

Neuse

New Light
(919) 407-8491
(919) 407-8491
---
Durham Area





Bahama

Blackwood

Buckhorn

Carr

Cedar Grove

Efland

Eno

Gorman

Hurdle Mills

Oak Grove

Rougemont

Timberlake
(919) 389-2489
(919) 389-2489
---
Cary Area





Bonsal

Friendship

New Hill
(919) 670-2799
(919) 670-2799
---
Chapel Hill Area





(919) 436-2157
(919) 436-2157
---
Pittsboro Area





Read what people are saying
about Precision Garage Door
Precision Garage Door of The Triangle
has received
3
reviews, averaging
2.00
Stars:










Date: 06/19/2021
Garage Door Repair
Apex, NC
Review:
The service guy was good. But the service is overly expensive. We just had to get the remote calibrated to the garage and they charged $100 for that. Then he said the door is not installed well, so he said he will calibrate the same, he just tightened the screws and charged 120 for that. So for 30 mins job we were charged $240. Which is ridiculous. Also, he was trying to sell us the remote for $69. Same ditto remote is available for $30 online. Not recommended. Arjun & Divya
- Divya And Arjun
A Response from: Tim Yeager
Thank you for your business and feedback. We are happy to see you are pleased with the technician but we are sorry that you are unhappy with the price for the service. Our service manager has tried reaching you by phone to discuss your service call and the pricing, but he has not been able to reach you. Please call the office and ask to speak with Sean, the service manager. Customer satisfaction is our main goal and we want to make sure your expectations are met.
Service Provided:
Garage Door Repair
---
Product:
Garage Door Opener
---
Technician:
Mike Grove





Date: 10/22/2020
Install Garage Doors
Durham, NC
Review:
Would have liked to have a more comprehensive range of options offered to me.
- Sandeep Kalelkar
A Response from: Tim Yeager
Thank you for considering our company to service your garage doors. We appreciate your feedback and we apologize you did not receive five star service from our technician like you deserved. You should have been given ample options to choose from when deciding on a new door purchase. His actions do not represent how we run our business and how we expect our customers to be treated. We have discussed this with him internally and it will not happen again. Since your initial review, we appreciate you speaking with us to discuss door options and pricing and we are happy that we were able to work with you and get what you wanted ordered. Our goal is customer satisfaction and for you to receive five star service from start to finish and we hope we have been able to prove that to you. Please don't hesitate to reach out if there are any issues on the day of installation. Thank you again for your business and we look forward to working with you for many years.
Service Provided:
Install Garage Doors
---
Product:
Garage Doors
---





Date: 04/06/2020
Broken Garage Door Spring Repair
Holly Springs, NC
Review:
Good service by technician but very, very expensive. Although a discount, 233$ for less than 30' of work without change any spare is really too much and without any warranty because the brand of system wasn't the one expected. In my previous house I spent 150$ for the same issue with another company. I think I'll not call Precision anymore.
- Ferdinando Longobardi
A Response from: Tim Yeager
We appreciate your business and you taking the time to leave a review. After reviewing the invoice on your account to repair your door, we feel the price quoted and billed was fair. The service fee was waived and you were given an additional discount off of the labor. We try to be very competitive with our pricing to obviously keep our business running and to be fair to customers. We are sorry you don't feel the same about the pricing. We will be happy to help if you need anything in the future, just give us a call.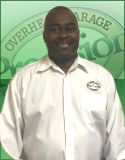 Service Provided:
Broken Garage Door Spring Repair
---
Technician:
Greg Gray